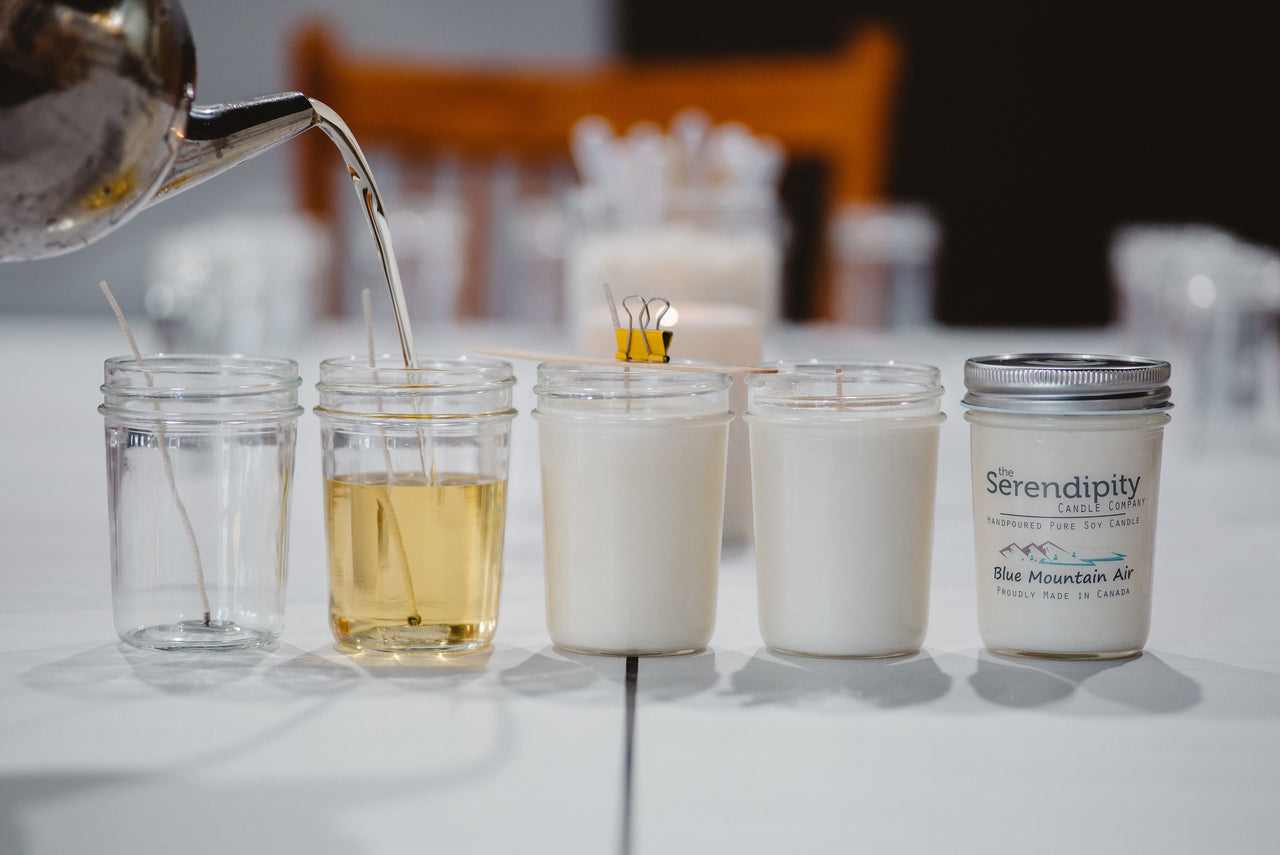 Thursday - Saturday - 10am & 2pm 
Sunday - 10:30am & 2pm
Please note candles will not be available until the following day for pick-up.  
Location: 27 Hurontario Street, Collingwood, ON 
Cost: $79.95 per participant. Minimum of 2 participants and maximum of 10 participants. 
Workshop will be approximately 45-60 minutes. You will create your own four pack of candles (value of $65.00). We will show you all about the candle making process while you enjoy selecting your scents, jars, preparing your candle jars for pouring and complete the process by creating your own candle.  Please note candles will not be available until the following day for pick-up.  There is an option for an additional fee to have them shipped to you.  Please reach out for details.  FOR LARGE GROUPS - Please reach out and we would be happy to acommodate you.  (Email: retail@serendipitysoycandles.com)
Really fun and great time!
My mom and I did the workshop, and it was so much fun. The person who was helping us was so great and knowledgeable about the candles and process. It made the experience for us! As avid candle burners we're glad to now know how to create these wonderful candles!
Amazing!!!
Whole experience was fantastic!! Would definitely return to attend the workshop again! Candles are burning fantastically at home too
Happy Birthday Bestie
Took my good friend as a birthday present and we had a great time. I would give 5 stars however the only things I'd say is that we were looking for a few scents that you didn't have. Anna was terrific and I've done this twice now and love it.
Much fun
Me and my ladies had a class together and it was lots of fun. Making up different candle scents was quite interesting. Our teacher was friendly, knowledgeable and maybe a little repetitive. Might be time to come up with some new material, jsut saying.
Fun afternoon!
Had lots of fun making candles. The variety of scents was great and am loving the candles we made!
Hand-poured with love in our Canadian factory #shoplocal
100% natural & eco-friendly soy candles that smell absolutely amazing
35,000+ Happy Customers. 250+ scents to fall in love with